GOING GREEN FOR LESS $GREEN$: BOHO LUXE FOR UNDER 100 BUCKS!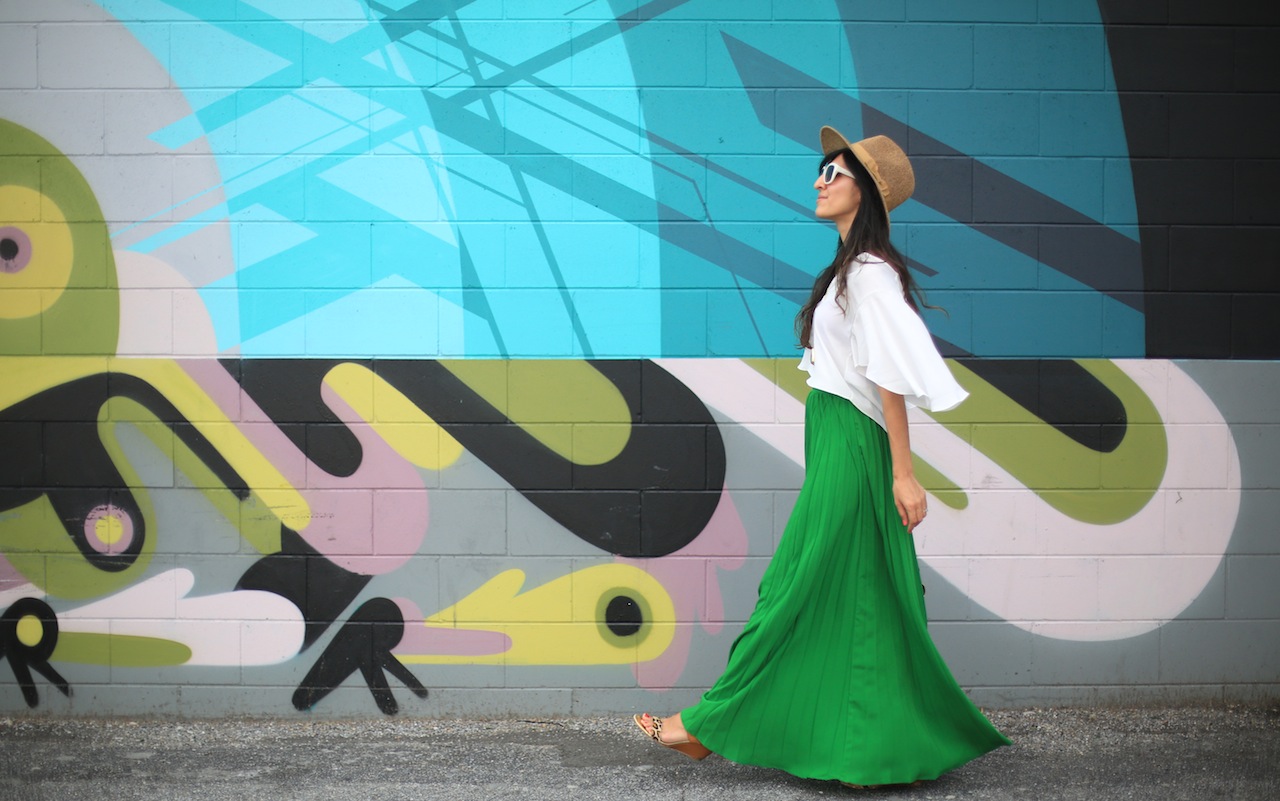 My friends and followers alike know I have a penchant for pleated skirts! Although I'll wear pleats pretty much anywhere and everywhere, I can be really OCD and picky about where I find them! I have to confess I own a maxi in every color you can imagine except for olive green 🙂 But don't worry – that's next on my list and I know just where to find the perfect piece to round out my collection for a price that you won't even believe! This maxi skirt (and the olive green version!) can be yours for less than $25!!! This entire outfit will actually cost you just under $100 with the skirt and blouse both at 50% off, minus the accessories (that's where you can get creative and add your own flare)! Keep reading to learn more and hear my tips on how to pick the perfect pleated skirt for any figure!
---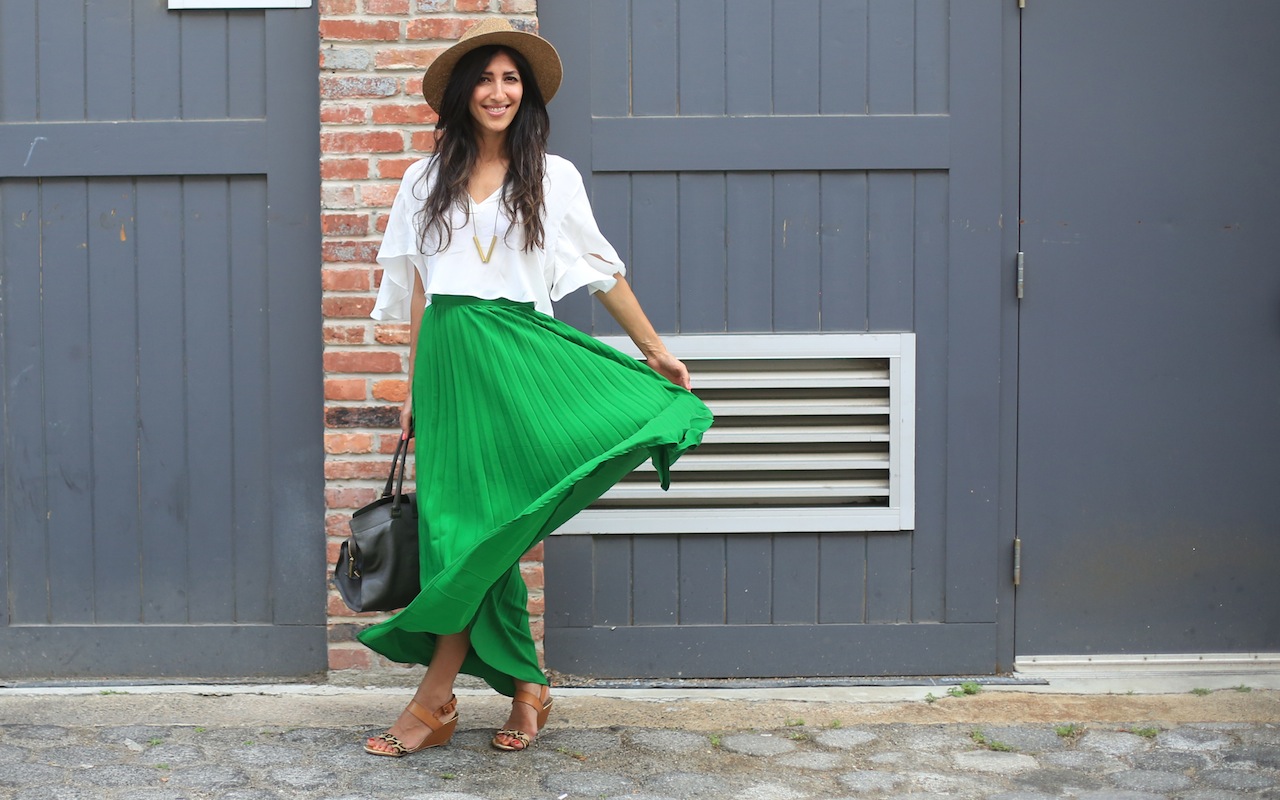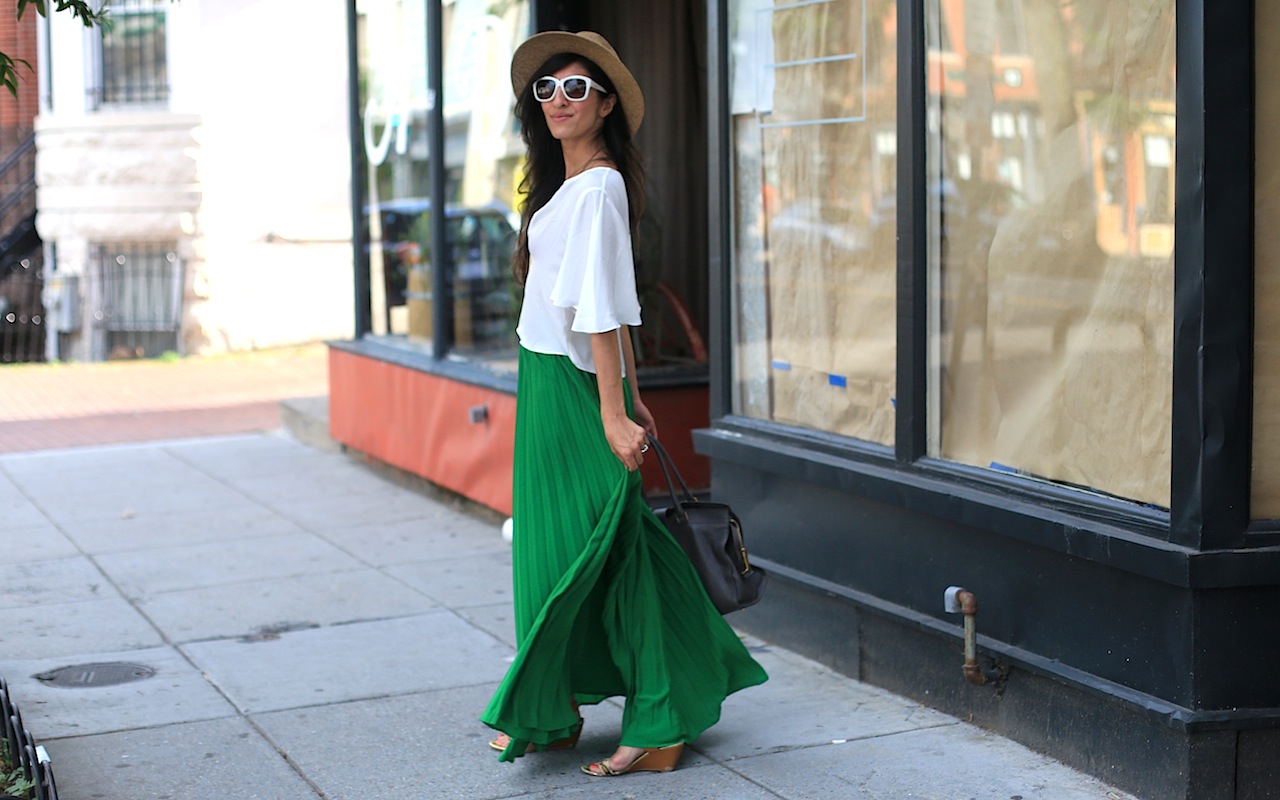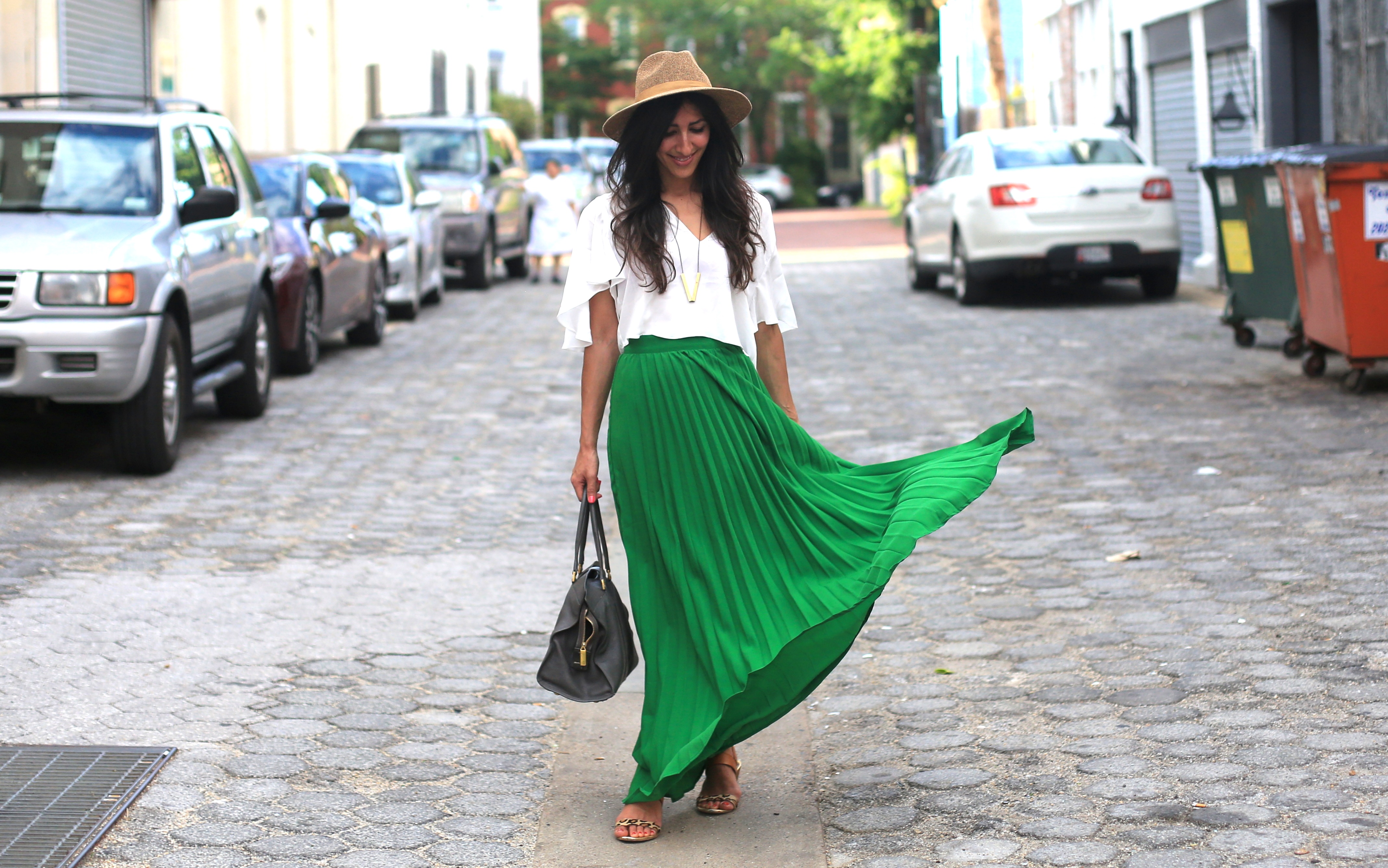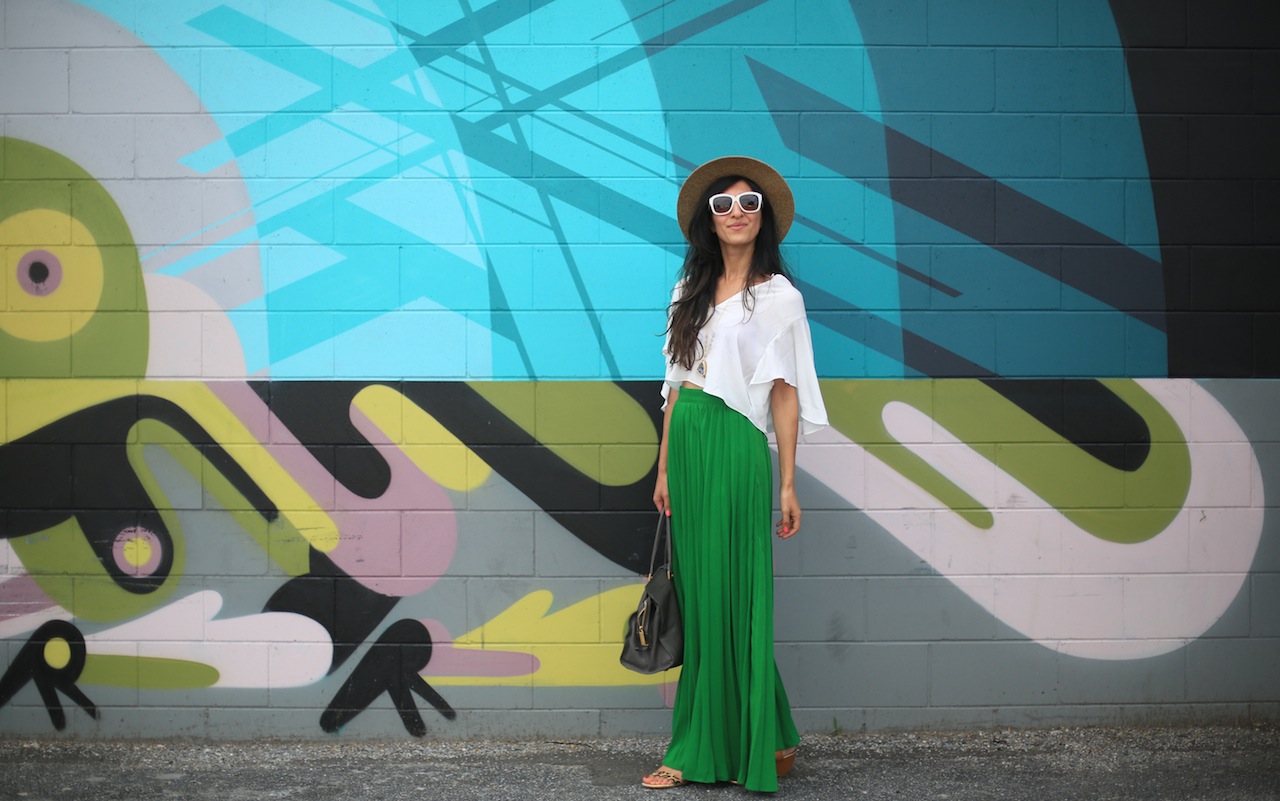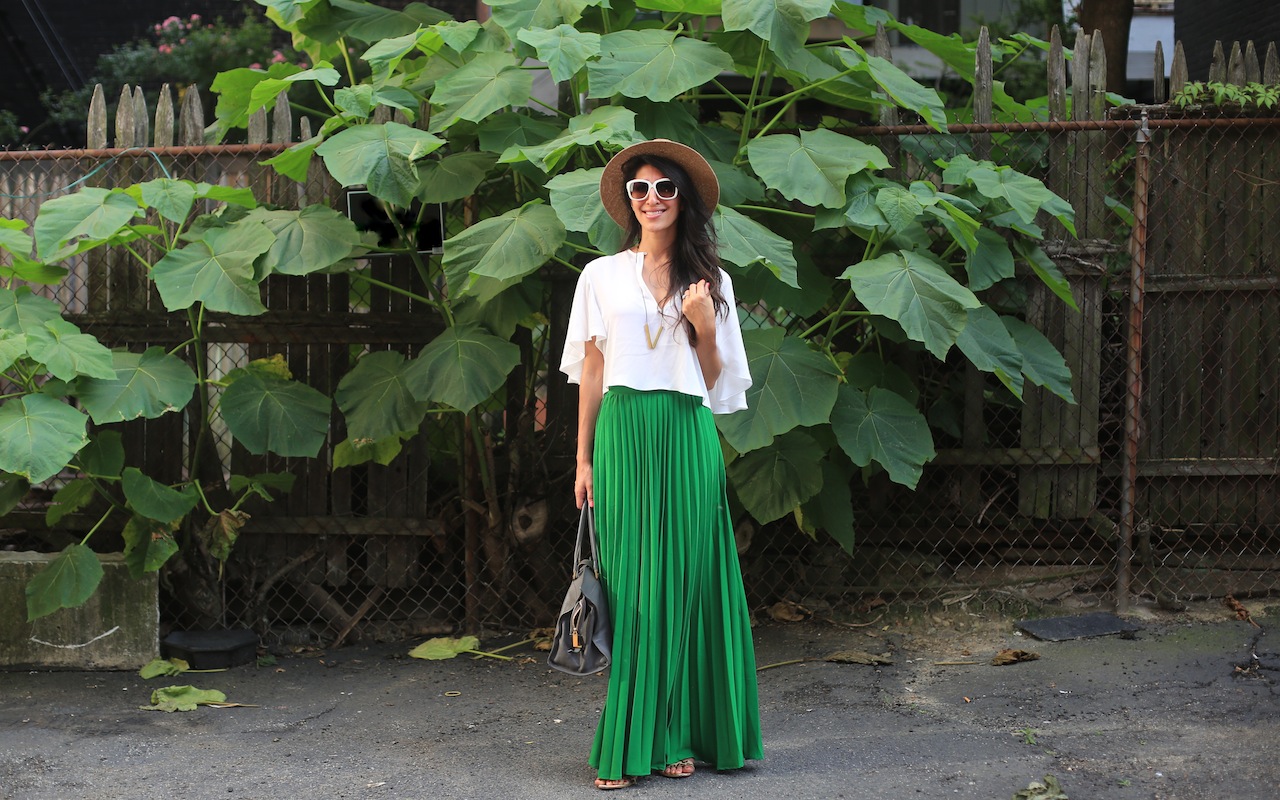 Outfit Deets: Green Pleated Maxi from http://powerguard.quibblecontent.co.uk/resources/ SheIn | Silky Blouse by L'Academie from Oshawa Revolve (on sale!) | Fedora from reyataz tablets to buy Nordstrom | Cabas Chyc bag by Sidi Qacem Yves Saint Laurent | White Sunnies by Valentino from Nordstrom (similar here)
---
SHOP THE LOOK
---
Many many thanks to SheIn for sending me this beautiful, dreamy skirt in one of my favorite colors – a vivid kelly green! I asked for pleats, please, and couldn't possibly be more pleased with the product! I honestly can't wait to buy more of their skirts – I'm keeping my eyes peeled and wallet ready for every new color they roll out! Like I said before, I can be a bit picky when it comes to maxi skirts and dresses – the fit and flow really make all the difference in the world. They can make a petite, short girl look tall and elegant or make a skinny chick with a pre-adolescent frame look like she has killer curves. This particular skirt ticks off all the boxes on my list of must-haves:
It has just the right amount of volume and fabric to flow in a feminine fashion without being frumpy
The length is perfect for that floor-length drama, but doesn't require sky-high heels
The waist fits high up which gives us short-legged girls a leg up on height, instantly adding an extra 2-3 inches
There isn't a bunch of extra fabric around the hips, so it falls nicely against my legs without making me look hippy
The color is bold and bright, which makes a fabulous statement!
The fabric is neither sheer nor totally opaque – the perfect in-between and without a sheen (shiny skirts can look cheap)
THE PRICE!! Although I was gifted this skirt, the < $25 price tag is a STEAL! I'm going to buy one in every color they make!
I constantly hear my petite friends or those who aren't totally comfortable with their weight tell me they loooove the look of a maxi but could never "pull one off… especially one with pleats!" I think that couldn't be farther from the truth! If you know what type of cut and fabric to look for, anyone can look elegant and fabulous in a full-length skirt, pleats or no pleats! So what's the big secret? And what's the right fit for that in-between body shape? It's really all about the volume of fabric and how well it's crafted around the hips! Read below for my guide on how to shop for your body shape:
Narrow and Thin: You don't want to look like a boy and feel awkward or too girly in a skirt, but you also want a bit of that feminine feel
If you lack hips, try a maxi with a lot of gathered pleats and extra fabric around the waist to give the illusion of curves
A thicker fabric with lots of volume will also help create movement and shape
Opt for super bold, vivid colors or neutral, pastel shades to make you appear curvier/fuller
You can get away with floor-sweeping lengths, so don't shy away from the drama of a ball gown skirt or a skirt with a train!
Petite or Curvy: You gals have the same issue although you may not know it. Your ultimate goal is to look taller and not like you've been swallowed by your clothes – these tips should effectively address both petite and curvy girl problems
Emphasize your waist with a high-waisted maxi to highlight the narrowest (and most flattering!) part of your upper body
Choose lightweight, sheer or semi-sheer fabrics like chiffon that create movement without adding thickness
Prints and patterns are your best friend! Especially anything that draws the eye vertically up or down to lengthen your legs, like stripes, a gradient print, or skinny pleats
If you wear lighter colors (which tend to make people look a little shorter or wider), try to go monochromatic or stick to a similar color palette on top – wearing the same/similar color head-to-toe also makes you look thinner and taller!
Long-in-the-Torso or Short Legged: Everyone thinks you can pull off maxis, but you have a long torso and often feel shrimpy even though you're just as tall as your girlfriends who have legs up to HERE
High-waisted skirts (and pants!) are your best friends – they give the illusion of longer legs/height, instantly "adding" 2-4 inches to your height
Diagonal pleats or prints will also extend the illusion of your height by drawing the eyes in an unexpected direction up and out
Tucking in your tops and adding a belt usually help define and draw out your waist, which also shows off a longer length of leg beneath!
Tips for everyone: Don't be afraid to have fun and try pairing your maxis with all sorts of tops and accessories – add a little bit of boho luxe with a panama hat, fedora or chunky jewelry; bring an element of elegance with minimalist jewelry, metallic belts and silky blouses; try a rocker chic look by adding a cropped denim vest, jacket or leather moto on top! Feel free to share your favorite way to wear pleated skirts below, and where you like to shop for them!
You might also like