PARIS CAFES: MOVING ACROSS ARRONDISSEMENTS IN SEARCH OF THE PERFECT THIRD WAVE COFFEE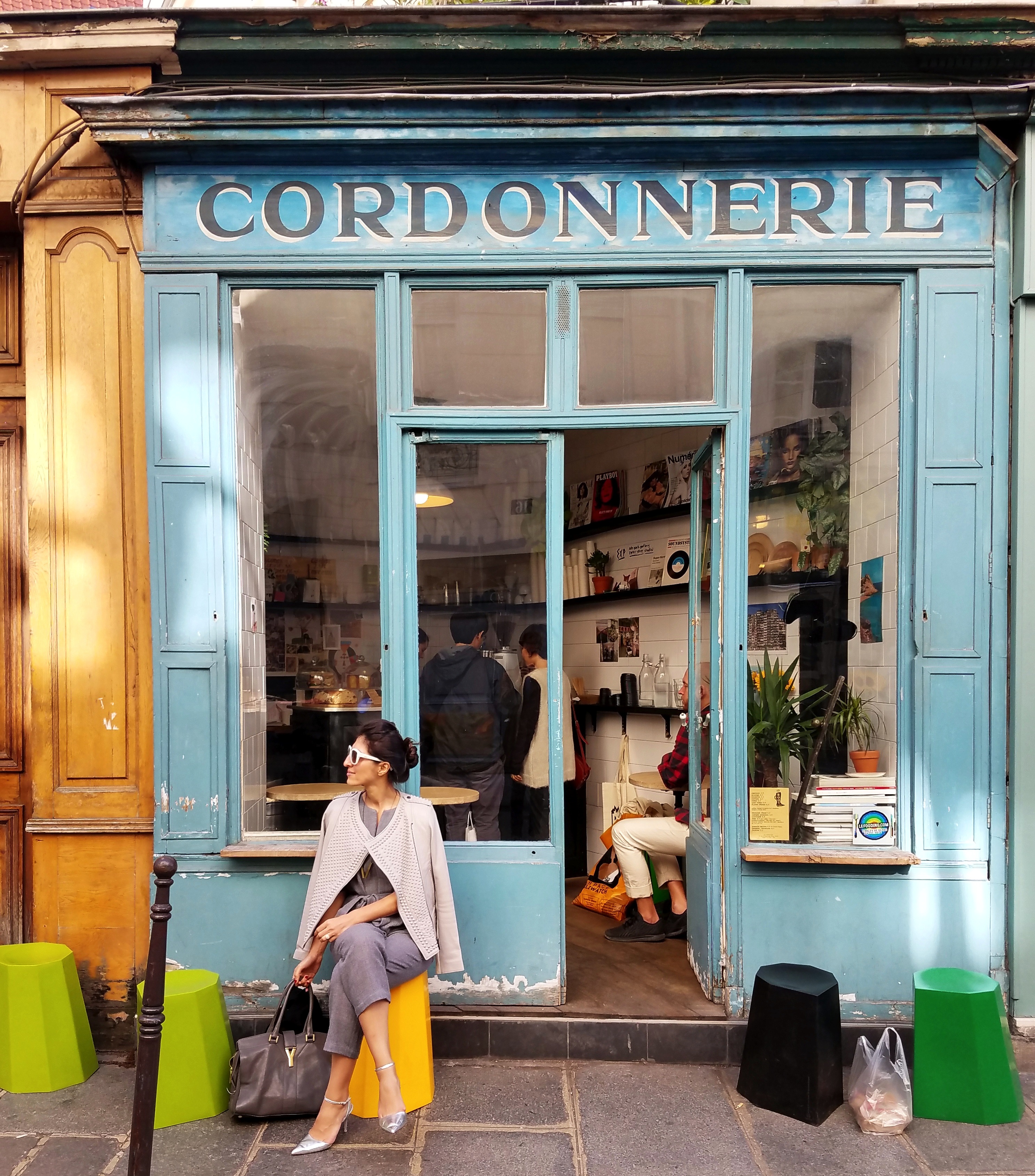 To say I'm a coffee snob is a bit of an understatement! 😀 Admittedly, I do get extremely nerdy and excited about coffee culture! I think it's safe to say cafe hunting has become almost a bit of a sport for me and my husband, where we subconsciously compete to find the best coffee wherever we wander around the world! And understandably so! When you've spent as much time as we have in Melbourne – the cafe capital of the world – and you're married to an Aussie from said city who tours the world with his own espresso rig (I know – I couldn't believe it the first time I saw it myself!! :D)… sniffing out the perfect strong flat white kind of becomes a sixth sense! Everyone likes their coffee a little different – some prefer a silky smooth flat white or milky latte, others (like me) need a more robust cuppa cappuccino that packs a strong punch like a cortado or magic, and then there are those (ahem – my italian friends 😉 ) who can handle the heavy hitting espressos sans milk! Regardless of your cup or capp of choice, I've done the legwork, traveled from arrondissement to arrondissement all around Paris in search of the perfect third wave coffee and coolest cafe design (yup, some quite Insta-worthy peeps!), and am here to share my favorite finds with you… Keep in mind this is just a partial list – there are so many amazing cafes popping up all over Paris, it's hard to keep up! But I have included a list of other great spots to check out across quartiers (or neighborhoods) at the end of this post in addition to those highlighted below!
CAFE KITSUNE:  Palais Royal/Louvre (1er)
51 Galerie de Montpensier
Métro: Pyramides, Bourse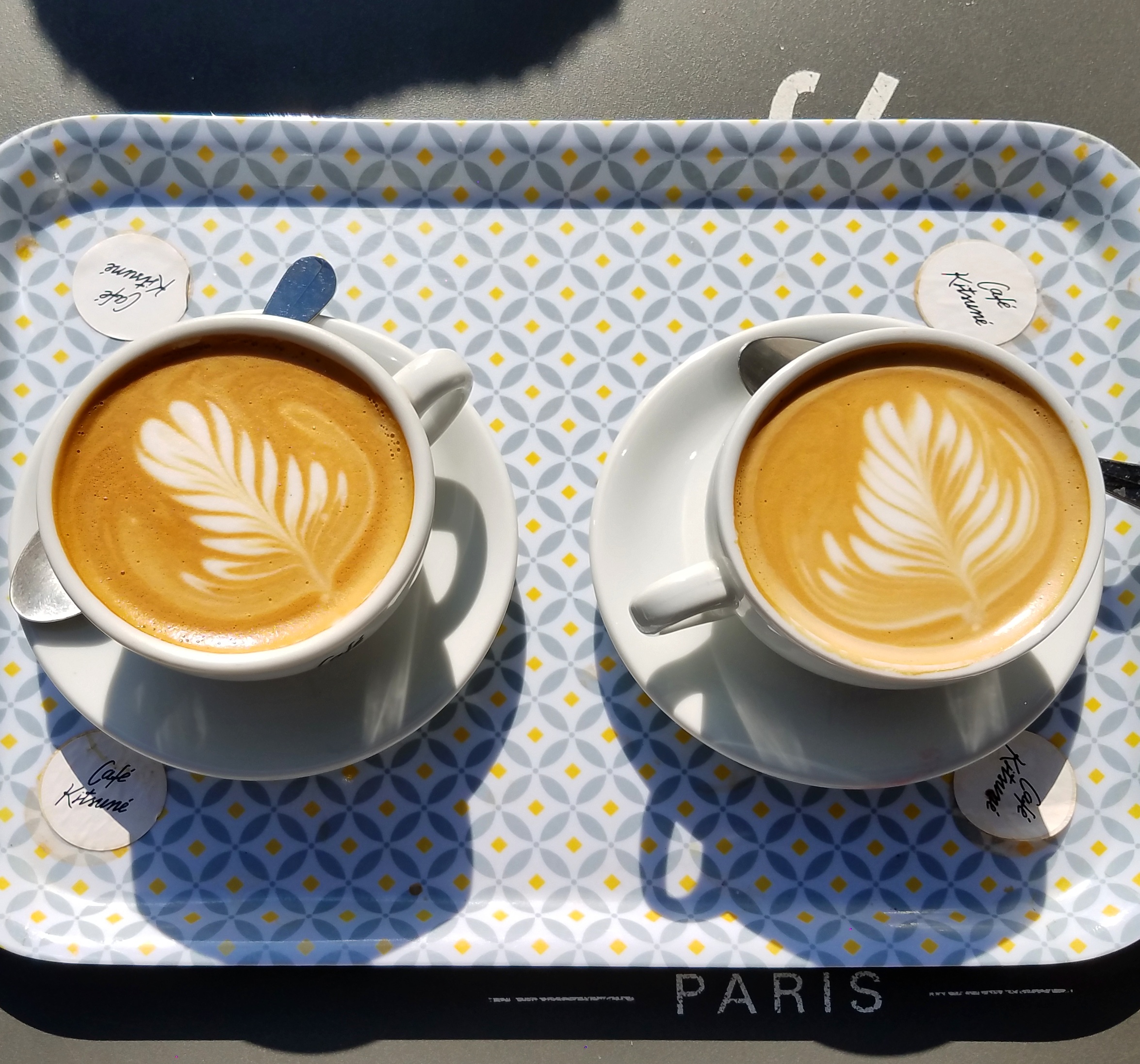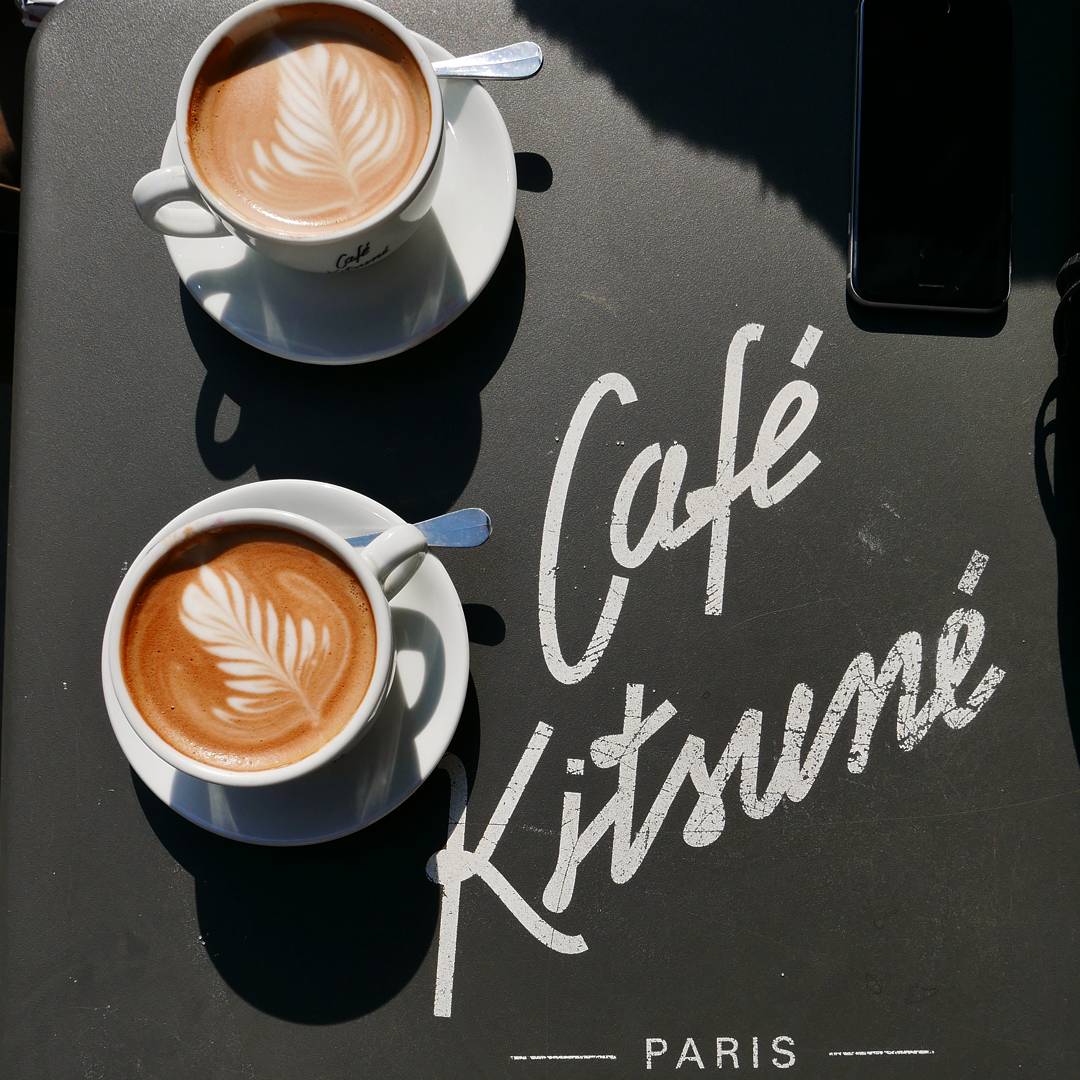 Great spot for "people watching" in the peaceful beauty of the Palais Royal gardens… I love going here when I'm sightseeing or museum hopping around the Louvre and Jardins des Tuileries. Robust coffees, and they even have matcha lattes for you non-coffee drinkers 😉
---
FRAGMENTS: LE MARAIS  (3e)
76 rue des Tournelles
Métro: Chemin Vert
fragments paris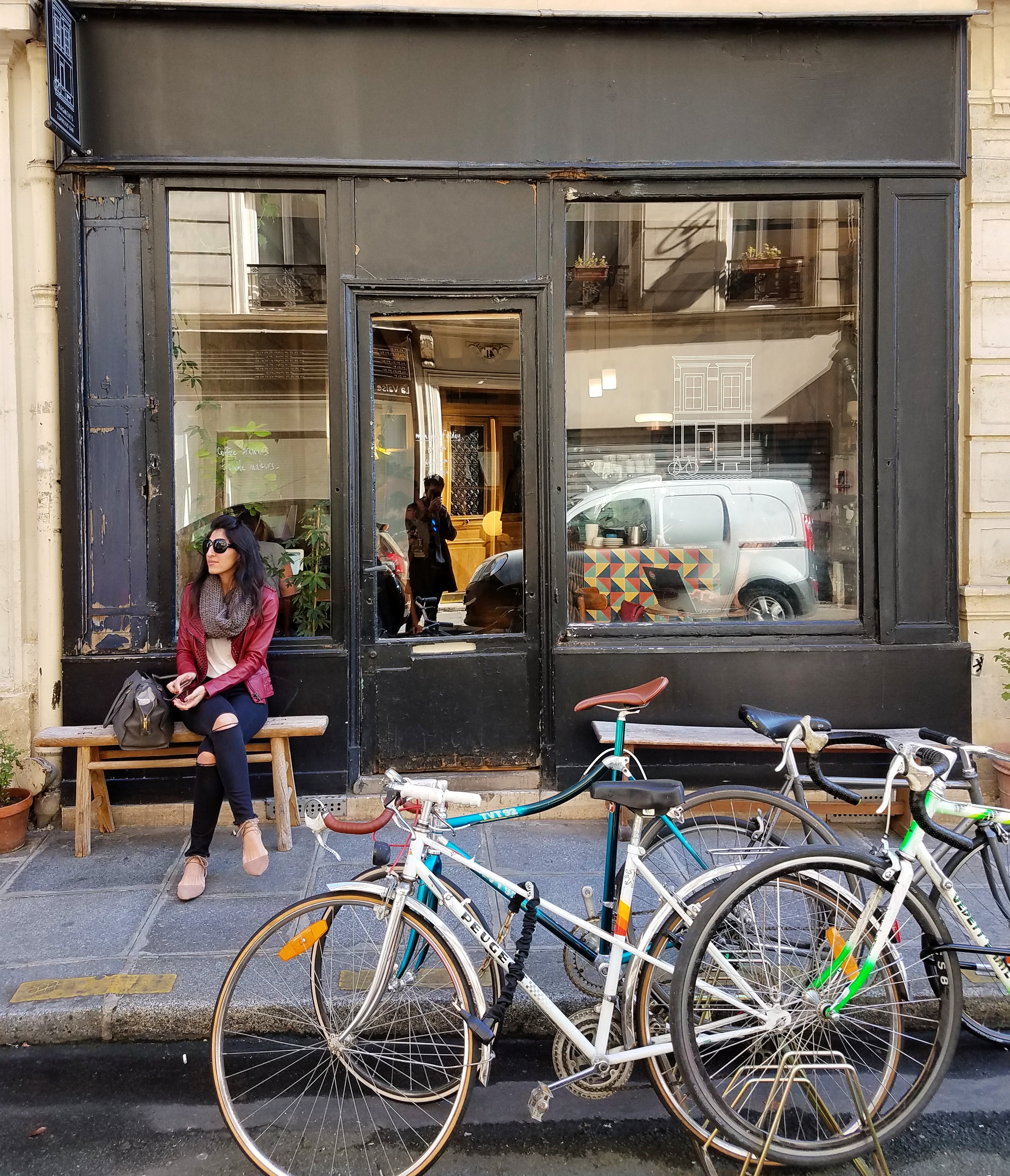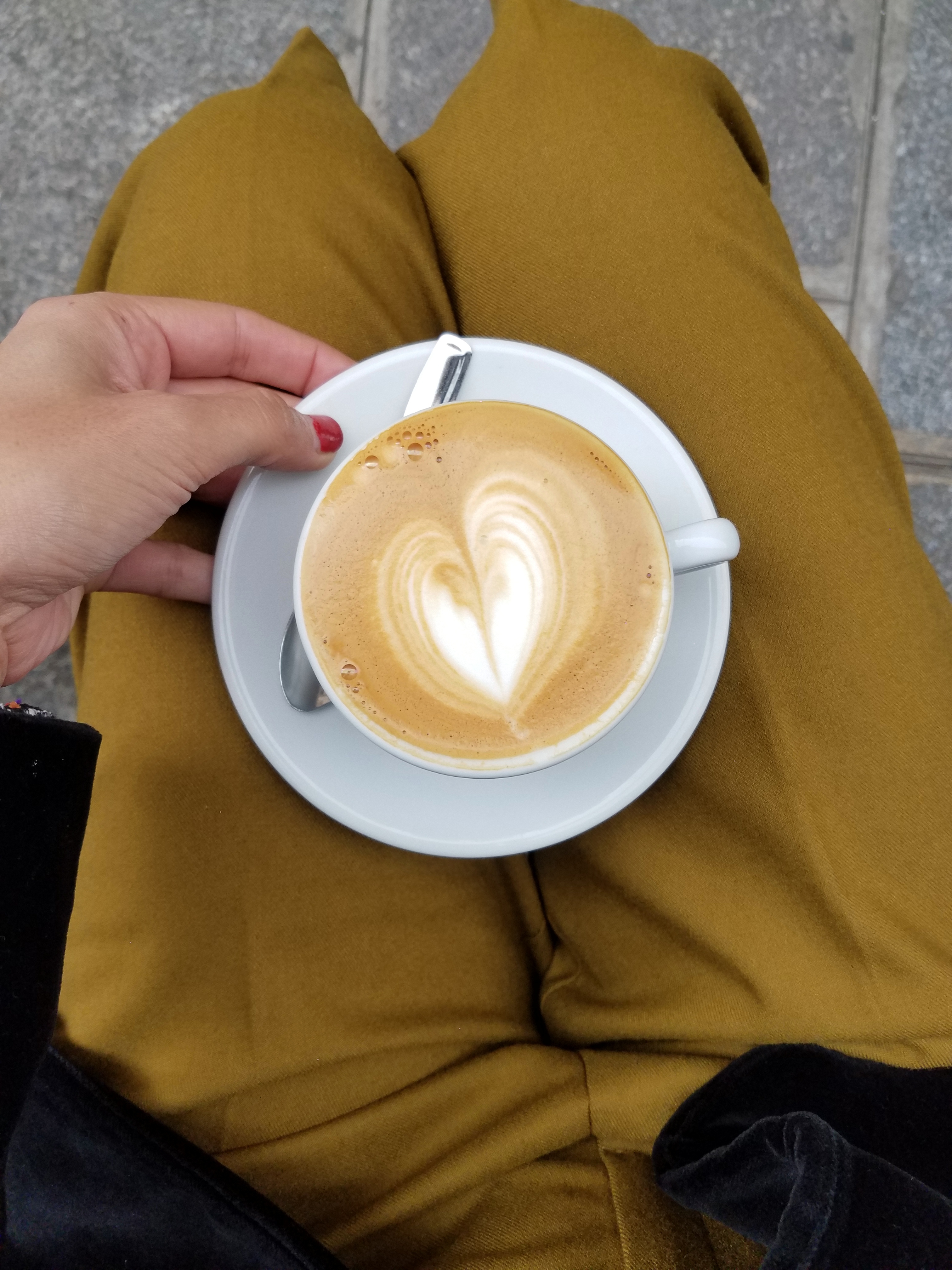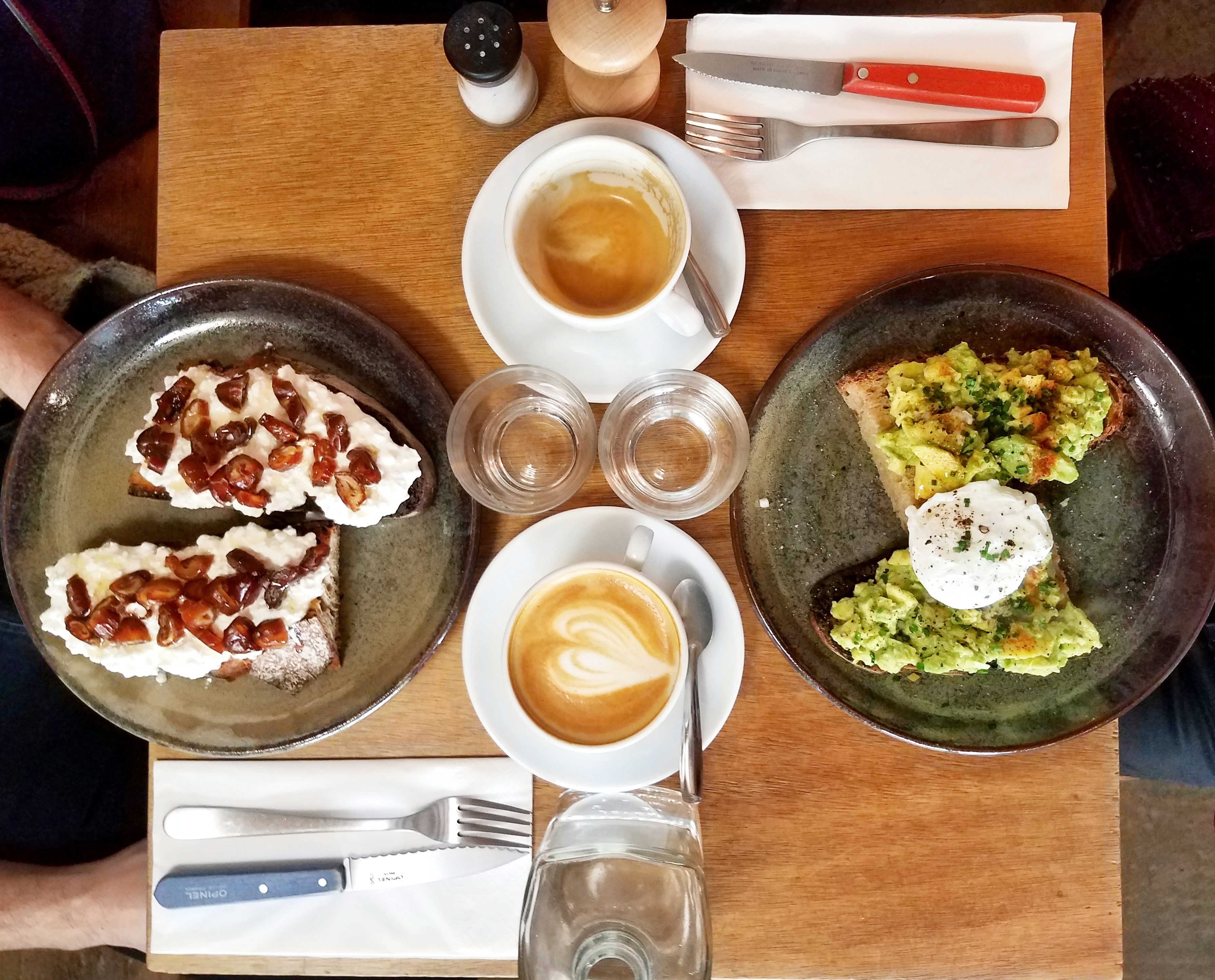 The coffee here may not be as strong (their flat whites or cappuccinos come as a single ristretto/single shot rather than the standard two and an extra shot = + €1), but they do make a mean avocado toast (poached egg optional) and other great toasties like ricotta + fresh date toast (pictured above, left)! This place also happened to be directly below our rental AirBnB, so that made it an automatic neighborhood favorite!
---
BOOT CAFE: LE MARAIS  (3e)
19 rue du Pont aux Choux
Métro: Saint Sebastien – Froissart
boot cafe paris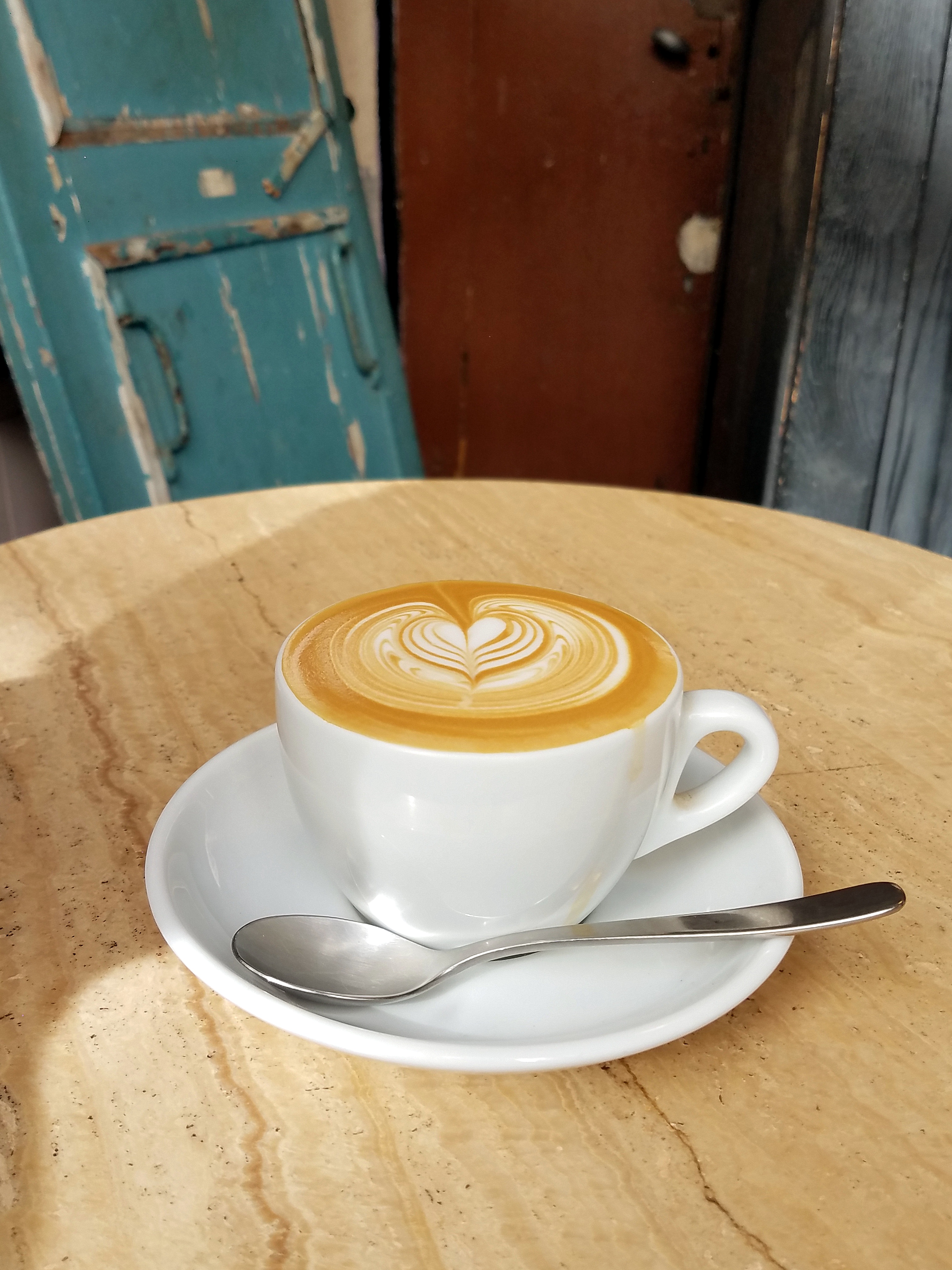 Boot cafe… ahh, the tiniest little hidden jewel in Paris that's not so hidden because of its beautiful antique storefront facade! This spot is teeny tiny but they make a mean cortado and have the coziest seating inside. Another neighborhood favorite – especially with all the incredible boutiques and other eateries a stone's throw away on this very block (stop by Rachel's a few doors down if you're craving an American-style brunch!)!
---
FONDATION CAFE: LE MARAIS  (3e)
16 rue Dupetit-Thouars
Métro: Temple, République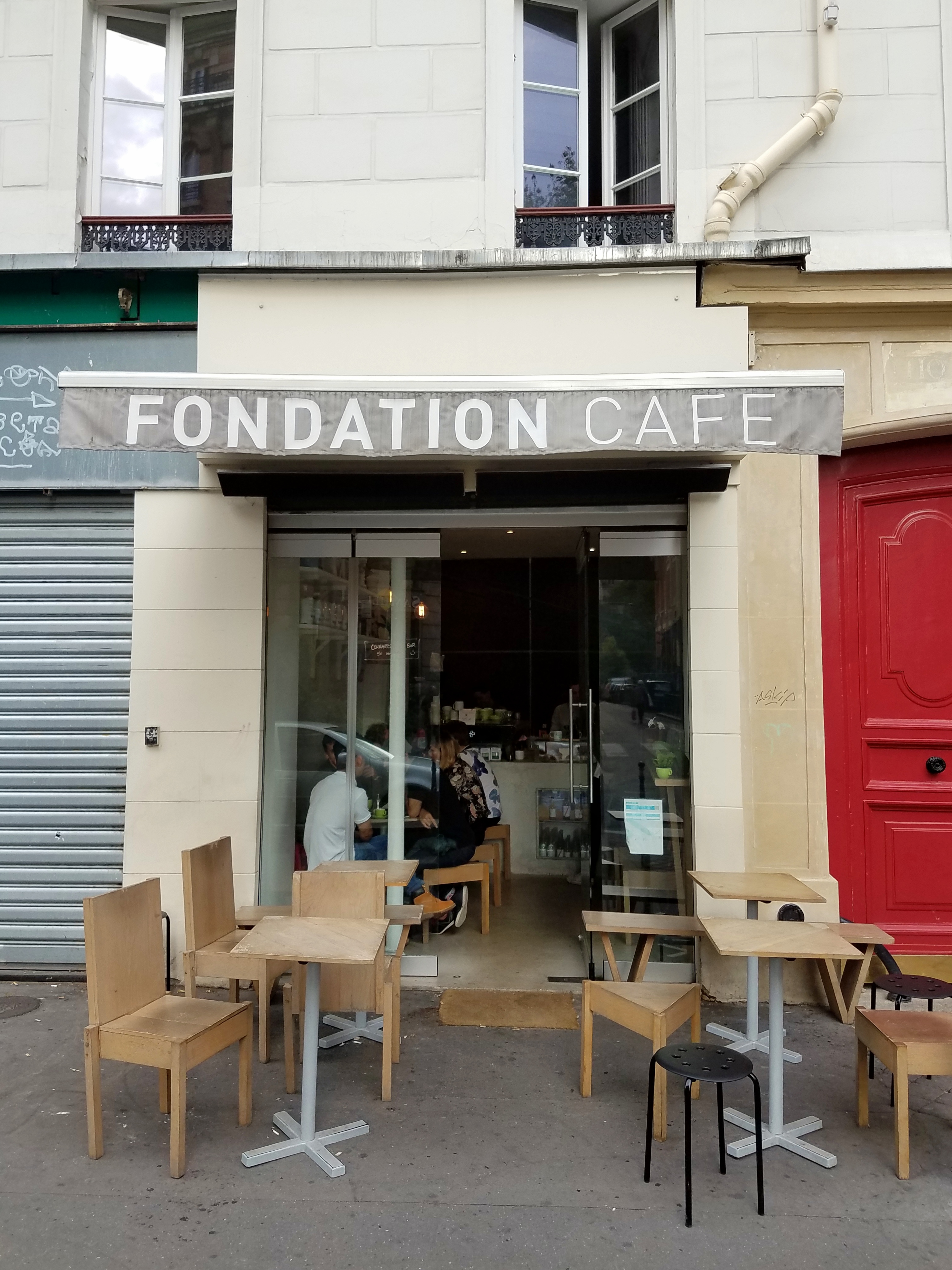 This Aussie cafe always nails it – strong, robust coffees and friendly faces. Definitely a spot where you'll run into a lot of locals and ex-pats alike! Also a couple doors down from one of our go-to all-day brunch and healthy eatery spots
Season
, where you can 
also 
get your avo-toast fix and lots of great fresh pressed juices! If you're in a rush, check out
Season Takeaway
on the corner!
---
LE PELOTON: LE MARAIS  (4e)
17 rue du Pont Louis Philippe
Métro: Saint Paul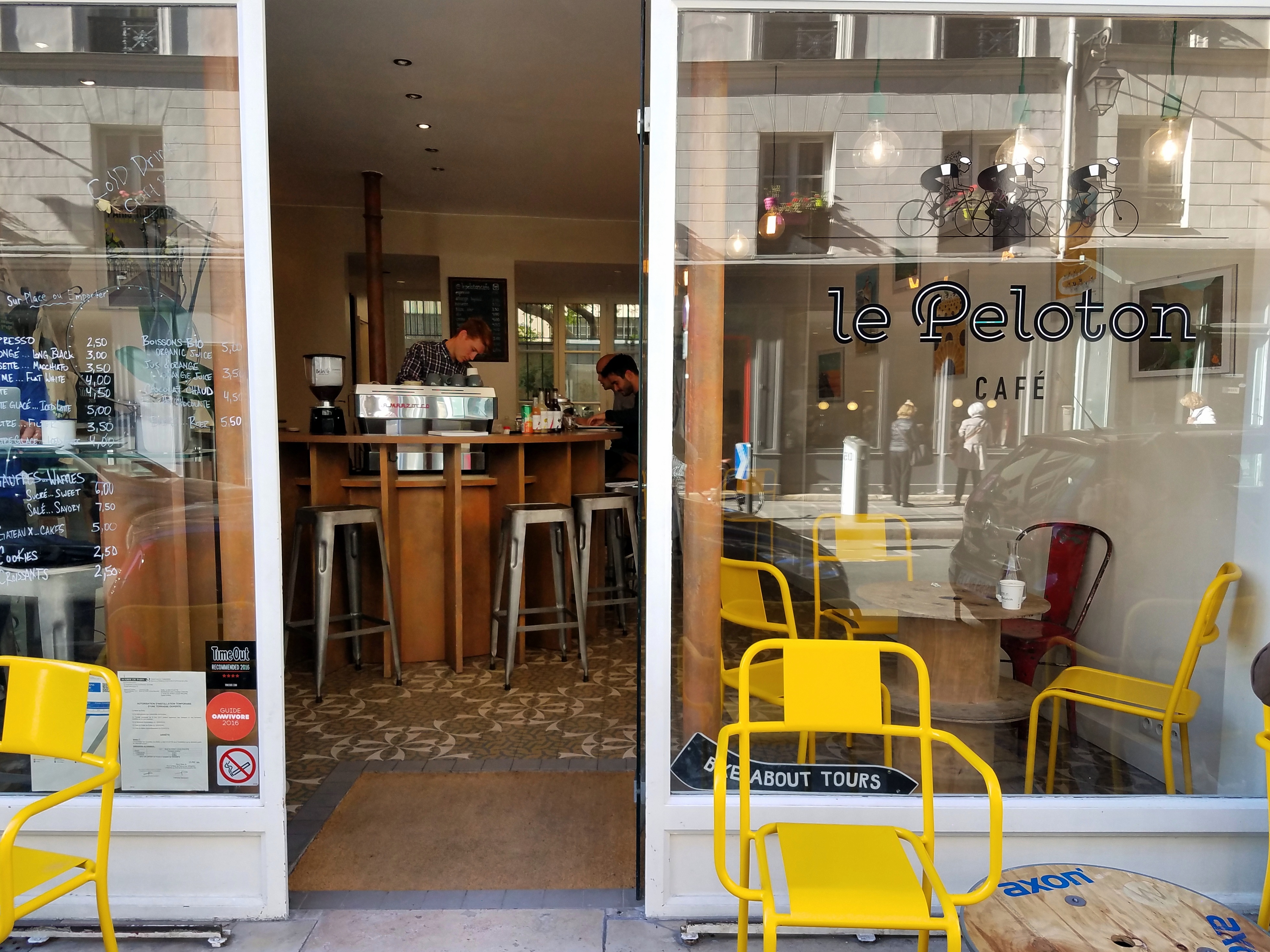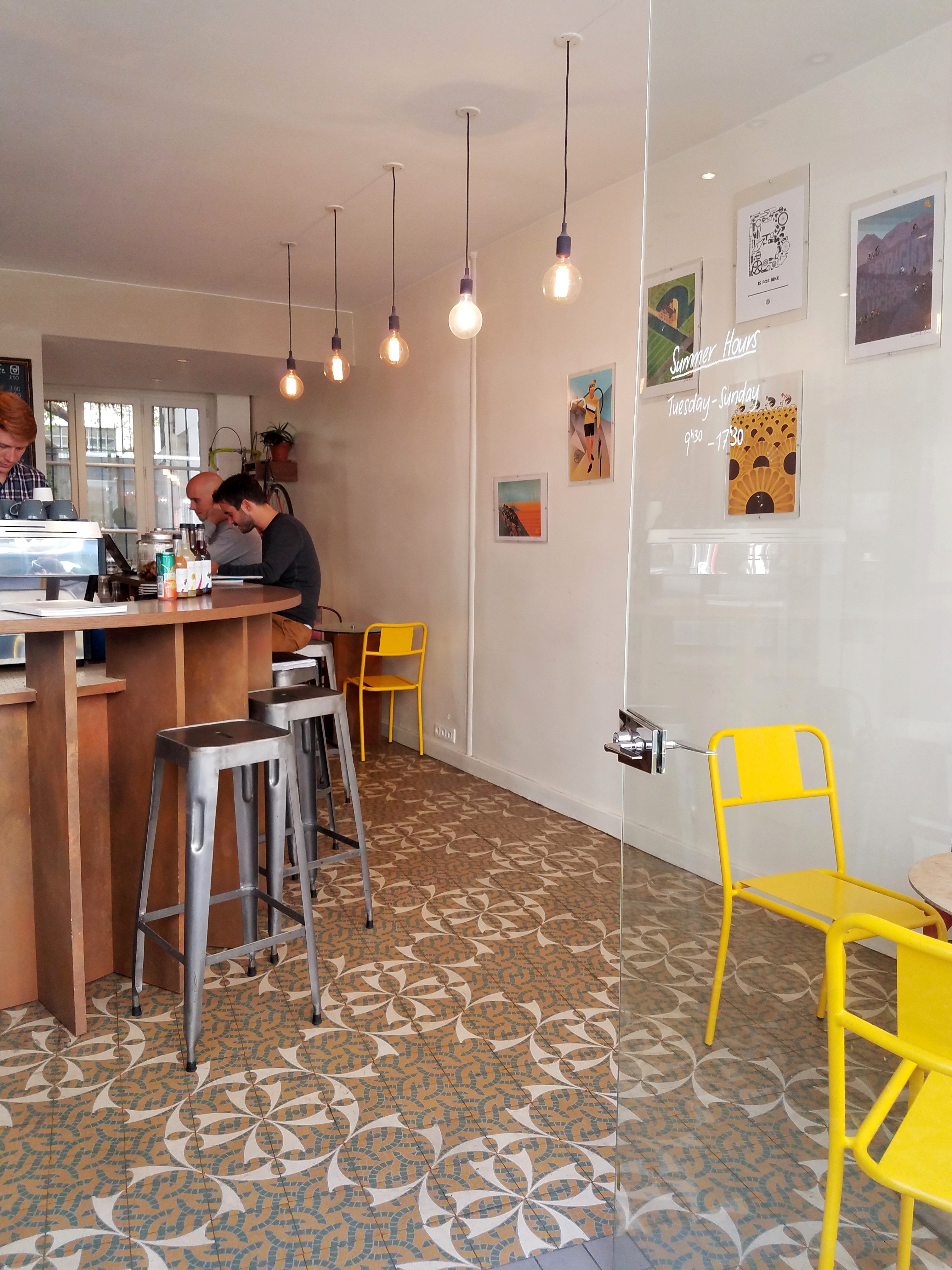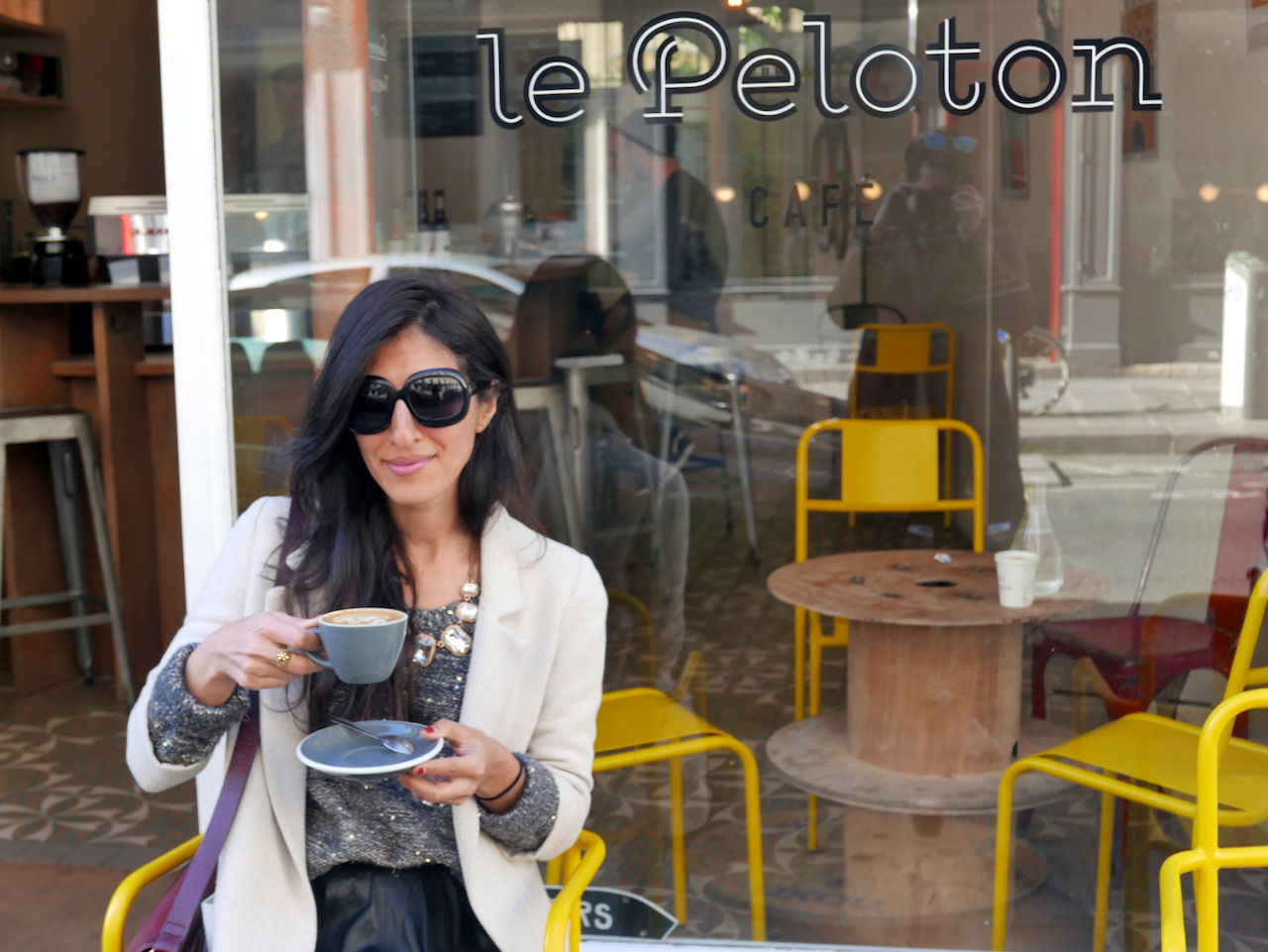 Hands down, my favorite for the quality of the coffee – perfectly poured, very robust yet smooth, and a flat white is just the right size – served in a 6 oz. cup! Not too hot, ready-to-drink right away, and bicycle themed cafe with a bright, clean interior?! SOLD! A bit off the beaten path, but perfect if you want to take that dreamy stroll from the Marais to Notre Dame – just a hop, skip and a jump off Pont Louis Philippe!
---
SHAKESPEARE AND COMPANY CAFE: LE QUARTIER LATIN  (5e)
37 Rue de la Bûcherie
Métro: Saint-Michel et Cluny
Just because it's SO cute and an absolute institution! Also a great spot to stop, sip and rest your legs after walking to Notre Dame!
---
HOLY BELLY: CANAL SAINT MARTIN  (10e)
19 rue Lucien Sampaix
Métro: Jacques Bonsergent et Château d'Eau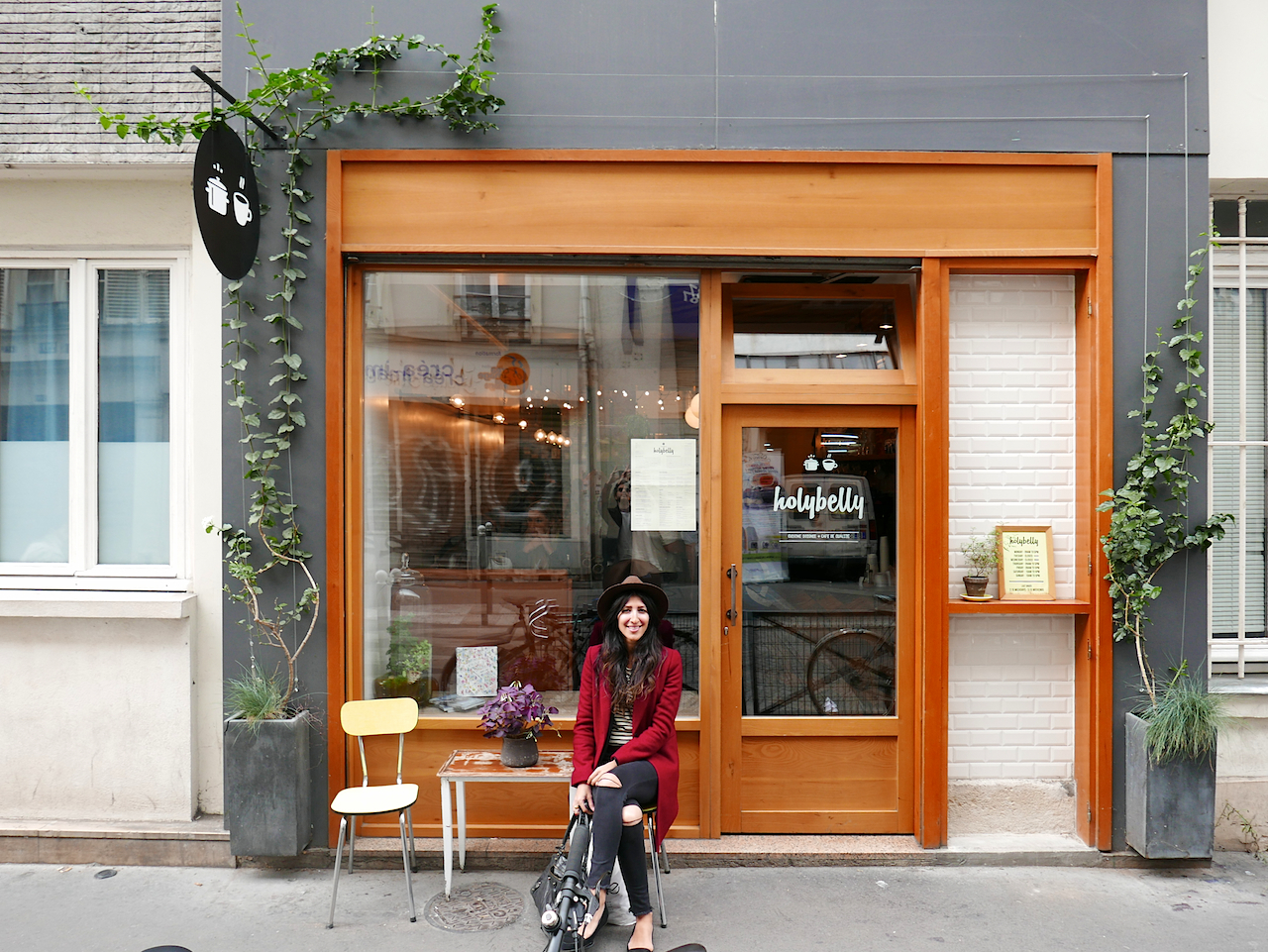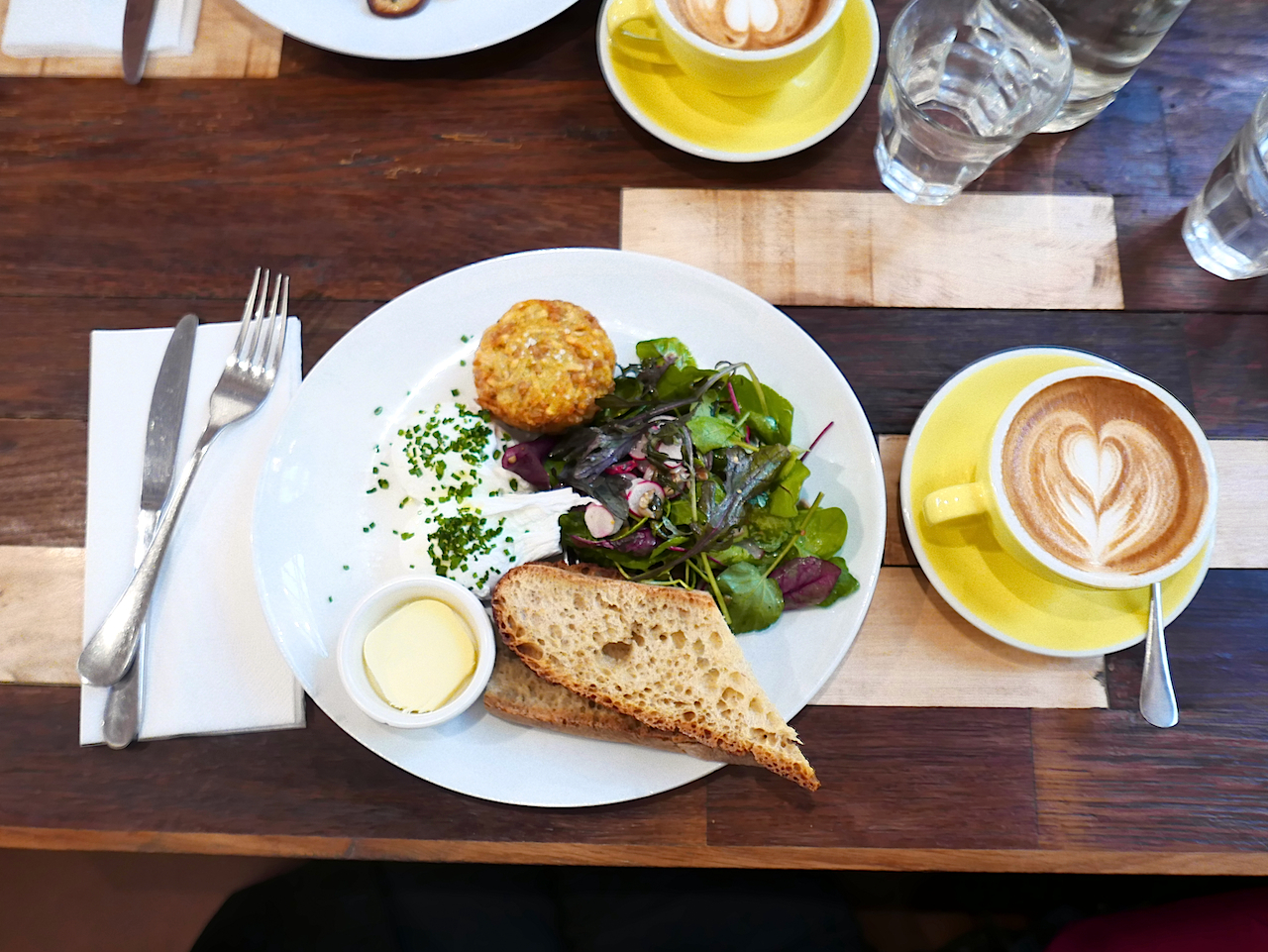 Yep… you guessed it! Yet another Aussie gem bringing the coffee culture magic to Paris's cool Canal St. Martin quartier! One of my favorite neighborhoods and cafes for years – I still remember when they first opened a few years ago and you didn't have to wait 2 hours for brunch on a Tuesday afternoon 🙂 As much as I mourn the loss of my easy, go-to spot for the perfect magic in Paris, I'm just as excited that other people appreciate the Aussie magic too! Now they serve a full menu, which is a very welcome change from the original coffee/pastry service – just be sure to get there early before they run out of hotcakes 😉 (BONUS TIP: Nearby Ten Belles is a great spot to grab a quick coffee while you wait for a table here)
---
SHOP THE POST
This list was by no means exhaustive! I'm super happy to report that there are dozens more cool coffee and brekkie spots all around Paris (I didn't even get to cover my rive gauche picks here)! Here's a quick hit list of other spots to check out, arranged by arrondissement:
Le Louvre | 5 rue Villedo | Métro: Pyramides

THE BROKEN ARM (3e)
Le Marais | 

12 rue Perrée | Métro: Temple, Arts et Métiers ou Filles du Calvaire

OB-LA-DI (3e)
Le Marais | 154 Rue de Saintonge | Métro: Temple ou Filles du Calvaire

Le Quartier Latin | 19 rue des Fossés Saint-Jacques | Métro: Place Monge, Cardinal Lemoine

COUTUME INSTITUUTTI (5e)
Le Quartier Latin | 60 rue des Écoles ou 33 rue Sommerard

LE COUTUME

CAFE

 (7e)
7e near Les Invalides and La Tour Eiffel | 

47 rue de Babylone | Métro : Saint-François-Xavier ou Sèvres – Babylone

St Honoré | 54 Rue du Faubourg St Honoré | Métro : Concorde ou Madeleine

Canal St Martin | 10 rue de la Grange aux Belles | Métro : Jacques Bonsergent et Château d'Eau

Canal St Martin | 80 Quai de Jemmapes | Métro : République ou Goncourt

CAFE

TABAC (18e)

Montmartre | 1 rue Ravignan | Métro: Abbesses, Pigalle

Montmartre | 62 rue des Martyrs | Métro: Pigalle
You might also like